Lakeside Comprehensive Rehabilitation, Lakeside Family Fitness and Lakeside Coffee and Smoothie Bar would like to assure the community that we take Covid-19 seriously.
Lakeside Comprehensive Rehabilitation is OPEN for treating patients by appointment, via TELEHEALTH or virtual visits. At its location, 601 E Main Street in Hart, we are protecting our patients and employees by taking the following precautions:
• Office seating in the waiting room and in the therapy/gym areas has been arranged for appropriate physical distancing.
• The staff wears a face mask.
• Restroom soap dispensers are maintained and everyone is encouraged to wash their hands.
• Hand sanitizer contains at least 60% alcohol is available in the waiting area, therapy rooms, gym and reception area.
• We schedule appointments at specific intervals to minimize the number of people in the waiting room.
• We ask that all patients remain outside or in their car until no earlier than 5 minutes before their appointment time.
• Credit card pads, pens and other areas that are commonly touched are thoroughly sanitized after each use.
• When there is physical contact between therapist and patient, gloves as well as a mask is worn.
• Tissues and trash bins are easily accessed. Trash is disposed of on a frequent basis.
• Common areas are thoroughly disinfected at the end of each day.
Procedures that we ask our patients to follow:
Determine what level of appointment you are comfortable with: in-person visit, Telehealth or virtual visit
Call 213-873-3577 to schedule an appointment
For in-person appointments: Please remain in your vehicle before the appointment and enter the building only 5 minutes before the scheduled appointment
Before entering the building, please make sure that in the past 14 days or at the moment you are not experiencing symptoms of Covid-19, are/were not in close contact with person confirmed or suspected of Covid-19 or have not travelled out of state. Please review the STOP form. By entering the building, you are attesting that you have not been exposed to the virus.
Please make sure you are wearing face covering inside of the building and maintain 6 feet distance unless directed otherwise by therapy provider.
Please have your temperature taken and recorded by our front desk staff
You will be asked to wash your hands or use hand sanitizer that we will provide
Please fill out the Patient Health Screening form, Informed Consent form and all other forms that will be handed to you by the front desk staff.
Follow instructions of the therapy provider for your therapy
Between appointments – please take steps to limit your exposure to the virus. If you become exposed to an infected person, please inform your therapist so we can switch to Telehealth visits.
Procedures that our staff follows:
taking temperature upon entering the building
filling out the temperature record and health questionnaire
medical and N95 MASKS are worn AT ALL TIMES
wearing gloves when needed, usually during select palliative sessions
Pool and gym at 610 E Main Street Rehab facility is open for patient rehabilitation only. Closed to wellness visits.
Lakeside Rehab Family Fitness at 39 S State Street facility is closed until July 8th. Covid-19 procedures for this building will be posted as we near the re-opening date. We are offering complimentary online workouts performed by our licensed fitness instructor Juanita Garza and NASM Certified Personal Trainer Ethan Flanery. Please click on the links below to access YouTube videos:
Schedule of outdoor classes: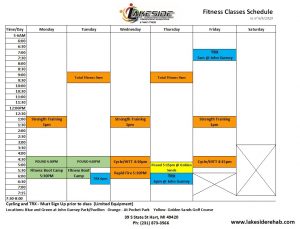 Please reserve your spot by sending us a facebook message or call (231) 873-3577. Gym Plus members can attend classes free of charge. Drop-in charge is $8 per person and needs to be pre-paid. You can pre-pay when you call and reserve your spot, or in person at either of our locations or by sending us PayPal payment. Instructors are not taking payments.
Lakeside Coffee and Smoothie Bar is open for phone orders and curbside pick-up.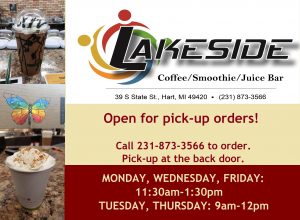 Additional information and forms related to Covid-19:
Back to Business check-list information
Lakeside office safety precautions