Two facilities, one goal: To Keep You Well.
Lakeside Comprehensive Rehabilitation & Family Fitness is a privately owned outpatient rehabilitation clinic founded in March 2003, offering Physical Therapy, Occupational Therapy, Massage Therapy, Speech Therapy, Aquatic Therapy, Functional Capacity Evaluations and family fitness services. When choosing Lakeside Rehab for your therapy and/or wellness needs you will receive a caring and knowledgeable staff committed to provide the highest quality of care. Lakeside provides a warm welcoming environment encouraging and helping you every step of the way at either of our 2 locations. Whether visiting for a day or living in the area year round, please check out all of the options we have to offer!
CLINIC IS TEMPORARY CLOSED in response to Corona COVID-19 outbreak. Reopen date: April 13th, 2020. Important announcements from the Lakeside management: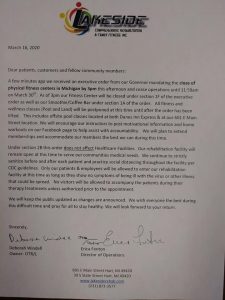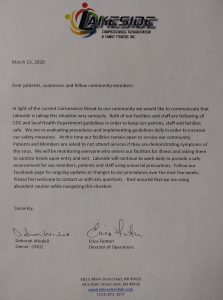 Lakeside Comprehensive Rehabilitation remains open for treating patients.
Lakeside Family Fitness and Lakeside Coffee/Smoothie/Juice Bar are CLOSED until March 30th, 2020. 
I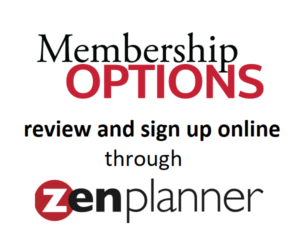 Click here to check our gym/pool membership options, prices, book appointments, or create your own account. We use ZenPlanner member software internally for our gym or pool members and you can get all information directly from this application.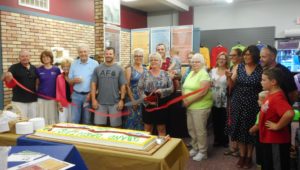 Smoothie/Coffee Bar at Lakeside Family Fitness downtown OPENED to public on June 7th, 2018! 
Located downtown at 39 S State Street Family Fitness location. Expect to find the finest quality Michigan coffee with Smoothies made all with natural ingredients, place to sit down and enjoy a cup with your friends. Smoothie/Coffee Bar is open for general public, not just gym members. We are looking forward to see you soon! Click here for the menu.
Video tour of our fitness facility at 39 S State Street, Hart
Video tour of our rehabilitation facility at 601 E Main Street, Hart