Three businesses, two facilities, one goal: To Keep You Well.
Lakeside Comprehensive Rehabilitation, Lakeside Family Fitness and Lakeside Coffee and Smoothie Bar are 3 businesses operating under the umbrella of Lakeside Rehab. Lakeside Rehabilitation is a privately owned outpatient rehabilitation clinic founded in March 2003, offering Physical Therapy, Occupational Therapy, Massage Therapy, Speech Therapy, Aquatic Therapy, Functional Capacity Evaluations. Lakeside Rehabilitation expanded in 2013 with 8,000 square feet fitness facility Lakeside Family fitness and is offering family fitness services. In June 2018, Lakeside Coffee and Smoothie Bar opened inside Family Fitness location at 39 S State Street in Hart. When choosing Lakeside Rehab for your therapy and/or wellness needs you will receive a caring and knowledgeable staff committed to provide the highest quality of care. Lakeside provides a warm welcoming environment encouraging and helping you every step of the way at either of our 2 locations. Whether visiting for a day or living in the area year round, please check out all of the options we have to offer!
CLINIC IS OPEN for patient visits. We also participate in TELEHEALTH and are offering virtual or over the phone visits. Please call 231-873-3577 for more information.

Lakeside takes all precautions during COVID-19 pandemic and ensures safe environments for patients and employees. Click here to read about COVID-19 procedures that Lakeside follows. 
Pool and Hot Tub are gradually re-opening to wellness members starting September 9th. Due to Covid-19 prevention measures, pool will be only available to use at 25% capacity during Open Swim hours. Pool is open for Aquatic Therapy and therapy treatments.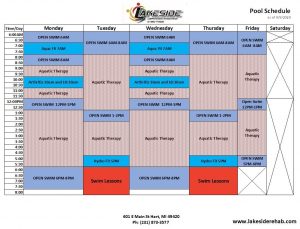 Lakeside Family Fitness is re-opened on September 9th at 5am and resumed regular hours. Starting September 14th, indoor fitness classes are resuming while we are still offering:
outdoor fitness classes
Zoom online fitness classes
free online workouts performed by our licensed fitness instructor Juanita Garza and NASM Certified Personal Trainer Ethan Flanery to keep you in shape while in quarantine.
Outdoor fitness classes schedule: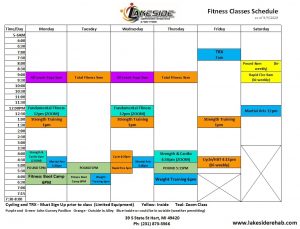 Please reserve your spot at outdoor fitness class by sending us a facebook message or call (231) 873-3566. Gym Plus members can attend classes free of charge. Drop-in charge is $8 per person and needs to be pre-paid. You can pre-pay when you call and reserve your spot, or in person at either of our locations or by sending us PayPal payment. Instructors are not taking payments.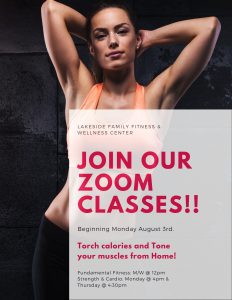 Schedule of Zoom classes:
Fundamental Fitness with Ethan: Mondays & Wednesdays at 12pm
Strength & Cardio with Juanita: Mondays at 4pm and Thursdays at 4:30pm
All current wellness members (gym and pool members with current memberships) are invited to attend Zoom classes free of charge. Please message us on facebook or call 231-873-3566 and ask for the link to Zoom class. Others are asked to pay $8.00 through PayPal link on our website and specify the class they would like to attend. We will email the link to Zoom class after the payment is received.
Please click on the link below to access our free YouTube workout videos: 
Lakeside Coffee & Smoothie Bar
Open inside Lakeside Rehab Family Fitness, at the back of the building. Hours of operation are Mondays through Thursdays from 5am-8pm, Fridays from 5am-6pm and Saturdays from 7am-2pm.
September Smoothie of the Month: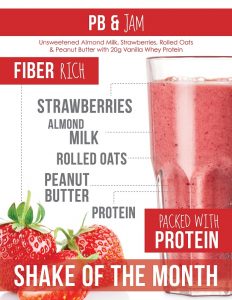 Video tour of our fitness facility at 39 S State Street, Hart – September 2020
Video tour of our fitness facility at 39 S State Street, Hart – pre-Covid
Video tour of our rehabilitation facility at 601 E Main Street, Hart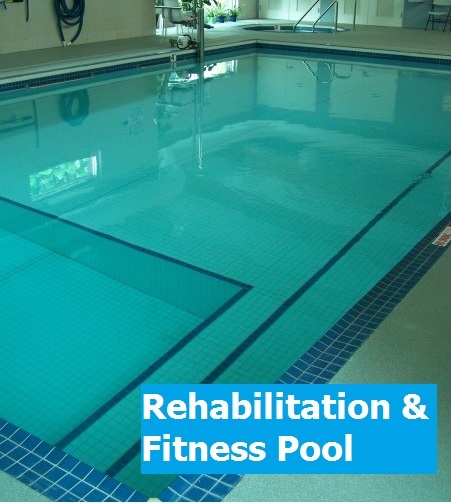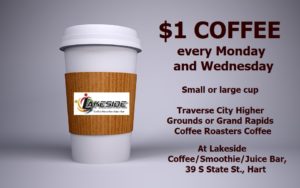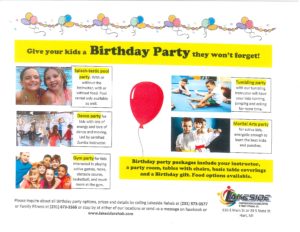 Our most recent ad at local media: