Occupational Therapy
Our professional Occupational Therapy team focuses on the physical, psychological, and cognitive aspects of illness and injury.  Occupational therapy specializes in injuries of the upper extremity and neck, including acquired brain injuries such as stroke recovery and traumatic brain injuries.
We provide treatment for impairment of functional abilities for patients with: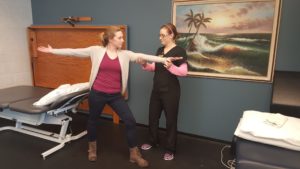 Musculoskeletal Disorders
Neurological Diseases and Injuries
Cumulative Trauma Disorders
Sports Injuries
Soft Tissue Injuries
Acute/Chronic Pain
Balance/Vestibular Disturbances
Pediatric Developmental Delays
Orthopedic, Post Surgical (Joint Replacements)
Stroke
And Many More……
NOW OFFERING: 
Universal & Accessible Design Consultant, ADA
Driving Assessments
Functional Capacity Evaluations (FCE'S)
On Site Job Analysis
Our Services Include:
Evaluation and Treatment
Splinting
Modalities (Ultrasound, Traction, Iontophoresis, Electrical Stimulation)
Cognitive and Perceptual Retraining
ADL Retraining
Neuro-Developmental and Sensory Integrative
Arthritis Management- Land and Water
Patient and Family Education
Sports Taping-Spider Tech
Home Visits
Warm Water Therapy (Aquatic Therapy)
Work Conditioning
Arthritic Conditioning
Weight Loss
Pain Management Program
All of our Physical Therapists and Occupational Therapists are highly skilled and knowledgeable in the following Manual Therapy techniques to treat pain, muscle tightness or spasm, reduced range of motion or joint functions:
Soft Tissue Techniques – Soft Tissue Mobilization, Deep Tissue Mobilization, Functional Mobilization, Scar Mobilization, Myofascial Release, Strain-Counterstrain, Craniosacral Therapy, Active Release Technique
Joint Techniques – Joint Mobilization, Joint Manipulation/Thrust, Traction
Muscle Energy Techniques
Proprioceptive Neuromuscular Facilitation
Lumbar Stabilization for low-back pain
We also have a Licensed Massage Therapist on staff to offer Deep Tissue Massage, Manual Lymphatic Massage for Lymph Drainage, Trigger Point Therapy, Arthritis Massage and much more.
Most insurances are accepted. Some may require a prior authorization. We look forward to meeting you and caring for your needs.
AVAILABLE AT:
LAKESIDE COMPREHENSIVE REHABILITATION
601 E. Main St. Hart, MI 49420
231.873.3577
Occupational Therapy Staff
Deborah Windell
Occupational Therapist
Brianna Cook
Occupational Therapy Assistant
Jennifer Babbin
Occupational Therapy Assistant
Latest News From the Blog:
Lakeside CARES! Covid 19 pandemic information.
Posted on May 28, 2020
Lakeside Comprehensive Rehabilitation, Lakeside Rehab Family Fitness and Lakeside Coffee and Smoothie Bar would like to assure the community...
Read More
Joshua R. - Everybody I interacted with was very warm, caring, polite, etc. I felt very welcome.
Nancy H. - All staff members are KNOWLEGABLE, kind, and upbeat. They all exceeded my expectations.
Meredith C. - Keep being Amazing!!
Deborah T. - I would recommend this facility & staff to everyone.
Joyce J. - Beth's knowledge and expertise is very much appreciated. I recommend her highly!