Three businesses, two facilities, one goal: To Keep You Well.
Lakeside Comprehensive Rehabilitation, Lakeside Family Fitness and Lakeside Coffee, Smoothie & Bagel Bar are 3 businesses operating under the umbrella of Lakeside Rehab. Lakeside Rehabilitation is a privately owned outpatient rehabilitation clinic founded in March 2003, offering Physical Therapy, Occupational Therapy, Massage Therapy, Aquatic Therapy, Speech Therapy, Functional Capacity Evaluations. Lakeside Rehabilitation expanded in 2013 with 8,000 square feet fitness facility Lakeside Family Fitness and is offering family fitness services. When choosing Lakeside Rehab for your therapy and/or wellness needs you will receive a caring and knowledgeable staff committed to provide the highest quality of care. Lakeside provides a warm welcoming environment encouraging and helping you every step of the way at either of our 2 locations. In June 2018, Lakeside Coffee, Smoothie and Bagel Bar opened inside Family Fitness location at 39 S State Street in Hart with its most recent addition of New Yorker bagels in December 2020 and sandwiches and salads in March 2021. Whether visiting for a day or living in the area year-round, please check out all of the options we are offering!
CLINIC IS OPEN for patient visits. 
COFFEE, SMOOTHIE, BAGEL BAR – ORDER ONLINE by clicking here!
GYM – Lakeside Family Fitness – memberships, drop-ins database, reservations – please click here. 
Pool, Hot Tub and Aquatic classes are open to wellness members without the pandemic restrictions.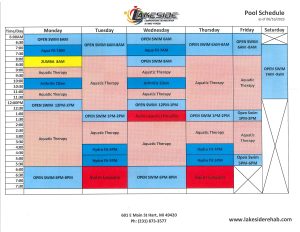 Lakeside Family Fitness is open to gym members and drop-ins for individual and group exercise during regular gym hours: Mondays through Thursdays 5am-8pm; Fridays: 5am-6pm and Saturdays: 7am-2pm.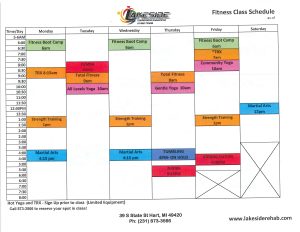 Showers at the gym are open back up and available for members to use. Please limit your use to no more than 15 min and remember to spray down the shower stall with disinfecting cleaner (in the bottle next to shower stalls) after the use.
Click here for ONLINE ORDERING site. 
Open inside Lakeside Rehab Family Fitness, at the back of the building. Hours of operation for coffees and smoothies are Mondays through Thursdays from 5am-8pm, Fridays from 5am-6pm and Saturdays from 6am-2pm. Kitchen is open for bagel, sandwich and salad orders Mondays through Thursdays from 7am-7pm, Fridays from 7am-6pm and Saturdays from 7am-2pm. Now serving New Yorker bagels with in-house made cream cheeses, bagel sandwiches and salads! ORDER ONLINE here!
Click here for the SMOOTHIE MENU.
Click here for the BAGELS MENU.
Click here for the BAGELS MENU.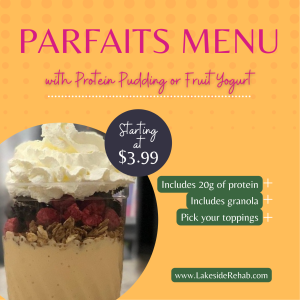 Click here for the WAFFLES.
NEW: House-made breads and sweet baked goods.
Video tour of our fitness facility at 39 S State Street, Hart – September 2020
Video tour of our fitness facility at 39 S State Street, Hart – pre-Covid
Video tour of our rehabilitation facility at 601 E Main Street, Hart