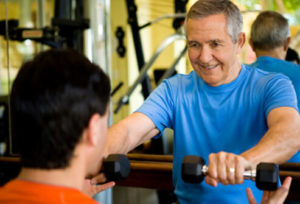 There is nothing more comforting then being able to walk into a gym with friendly workout atmosphere and be greeted by your trainer who has everything already planned for you. While you are busy managing your life during the day, your trainer will be organizing your next workout regime.
Do you want to keep active but don't know where to start? Wondering if you are getting the most out of your workout? Would you like to improve? Does your child participate in sport and needs help improving her/his strength, speed and stamina?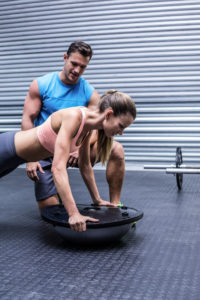 What will YOU get from our Personal Trainer?
We offer a dynamic exercise program based upon your personal goals, unique metabolism and fitness level. Our certified personal trainer will start with professional baseline assessment that looks at your goals, history, individual needs, body composition, and any past injuries or current pain. This allows to tailor a complete program customized just for you.
Benefits of Having a Personal Trainer
Having a personal trainer can be beneficial to you in more ways than one. If you are already paying for a gym membership, it's well worth the additional cost to also get the information, program and guidance.
Motivation and Accountability
Program tailored to your individual needs
Education on proper form and technique
Progress Tracking
Safety Awareness
New routines as you progress your fitness level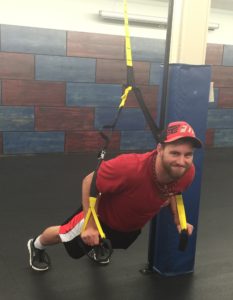 A personal trainer is for everyone, not just athletes and celebrities. We have worked with clients of all ages, backgrounds and personalities. Whether a teenager, senior or young adult – give us a call at 231-873-3566 and schedule a personal training session and let's get exercising.
Getting personal training sessions may be what you need to go from an OK workout to a workout that will get RESULTS!
Cost of Personal Training Sessions
You can purchase a one time personal training session lasting 45 minutes or 60 minutes. For a better value choose a package deal – 1, 3, 5 or 10 sessions package. All personal training sessions are one-on-one to better focus on your goals. Corporate members with gym membership receive 2 free personal training sessions.
Here's how to get started:
Contact Lakeside Rehab Family Fitness at (231) 873-3566 and ask about Austin Boundy or Ethan Flanery. They are both Certified Personal Trainers. Or CLICK HERE to send us a message and we will reach out to you!
AVAILABLE AT:
LAKESIDE REHABILITATION FAMILY FITNESS
39 State St. Hart, MI 49420
231.873.3566
Fitness Training Staff
Ethan Flanery
NASM Certified Personal Trainer
Latest News From the Blog:
Lakeside CARES! Covid 19 pandemic information.
Posted on May 28, 2020
Lakeside Comprehensive Rehabilitation, Lakeside Rehab Family Fitness and Lakeside Coffee and Smoothie Bar would like to assure the community...
Read More
Joshua R. - Everybody I interacted with was very warm, caring, polite, etc. I felt very welcome.
Nancy H. - All staff members are KNOWLEGABLE, kind, and upbeat. They all exceeded my expectations.
Meredith C. - Keep being Amazing!!
Deborah T. - I would recommend this facility & staff to everyone.
Joyce J. - Beth's knowledge and expertise is very much appreciated. I recommend her highly!