Massage therapy helps to reduce pain and muscular strain in all population and ages. Our licensed massage therapists will treat you with utmost respect and are looking forward to provide you with enjoyable and successful treatment to speed up your healing and recovery.
Types of Massages Offered: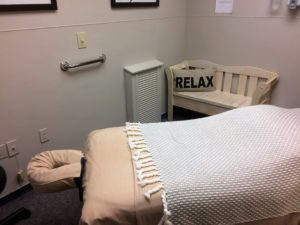 Medical Massage – using post operative procedures to achieve range of motion and alleviate pain
Therapeutic Massage
Trigger Point Therapy – is specifically designed to alleviate the source of the pain through cycles of isolated pressure and release of discomfort
Prenatal Massage – pregnancy, full body massage which focuses on back, hips and joints
Deep Tissue Massage
Relaxation/Swedish Massage – relaxing massage, full body, soft hand
Manual Massage Therapy – using bones to stretch muscle, tendons or ligaments to get range of motion
Facial/Cranial Massage – face, neck and scalp massage. Cleaning of the face to get rid of things such as acne or wrinkles
Arthritic Massage
Geriatric Massage
Myofascial Release
Manual Lymphatic Massage – a gentle massage which is intended to encourage the natural drainage of the lymph, which carries waste products away from the tissues
Sports Massage – stretching to help muscles, ligaments and tendons which are sports involved
Cryotherapy – cold therapy

Paraffin Treatment – hot wax treatment that can be placed on the body increasing blood flow and bringing moisture to the skin
Hot Stones Heat Therapy – rubbed or placed on the body. The heat of the stones relaxes the muscles to help with range of motion
Massage for Stress Relief
Bio-Energizing Detox Therapy
Massage therapy can also be very beneficial when used in conjunction with physical therapy, occupational therapy and medical treatments.
Massages can help with back pain, chronic fatigue and chronic fatigue syndrome, fibromyalgia, gout, scleroderma, shoulder problems, spinal stenosis and sports injuries. We look forward to seeing you soon!
Bio-Energizing Detox Therapy
The Bio-Energizing Detox starts the process of re-balancing your body's bio-energy by re-balancing the cells equilibrium of positive and negative ions.  This process 'kick starts' the dispersal of the unwanted toxins.  The renewed re-balancing of the cells ensures re-hydration and results in optimum efficiency extraction nutrients and disposing of unwanted waste.  Having a massage proper to a detox treatment can increase toxin release, as well as give renewing energy levels both physically and mentally which can result in an overall feeling of well-being.
Massage Options:
30, 60 or 90 Minute Massage
Detox & 30 Minute Massage
Paraffin Treatment with 15 minute Hand Massage
Chair Massages
Detox
Chair Massage Packages:
4- 20 Minute Massages
8 – 20 Minute Massages
12 – 20 Minute Massages
Table Massage Packages
6 Pack – Offers 6 One hour long massage
12 Pack – Offers 12 One hour long massage
Corporate Member Spa "Treat" – We come to you.
Table Massages 30 minute or 45 minute
Chair Massages
Punch Card
For every 10 massages purchased receive a Free 30 Minute Massage
Massage Add On:
Add: Vitamin E, Castor Oil, Hot Stones (only at 39 State Street) and Bio Freeze  per request.
Refer a friend special:
Refer a friend and you both can be eligible to earn $10 in credit.  When your referral becomes our new customer you will receive $10 off on your next purchase of 30, 60 or 90 minute massage. There is no limit to the number of customers you can refer or reward vouchers that can be earned. Redeemable toward regular priced products and massages totaling $75 or more. Vouchers are not redeemable for cash and cannot be combined with other specials or offers.  Cannot be used to purchase product or pay for therapy services.
Call to schedule your massage or send us a message today!
* We do have a variety of discounts including, member, student, senior and corporate discounts.