New Patient Information
Michigan law allows patient to choose their rehabilitation provider. Thank you for choosing Us! We understand that your recovery is unique to You. Whether you are seeking care for yourself, a family member or a friend we can provide the highest possible quality of treatment.
Benefits of choosing Lakeside Comprehensive Rehabilitation for your treatment and recovery

We provide one on one individual care to make the most out of your treatment.
Treatment sessions are 45 min to one hour giving adequate time for a productive visit.
 Staff of 15 Physical Therapy, Occupational Therapy, Speech Therapy and Massage Therapy professionals.
Our extended therapy hours from 7:00am until 7:00pm Monday through Thursday and Friday between 7:00am – 6:00pm guarantees to meet your scheduling needs
Home visits to patients unable to travel to our site
Our team of Therapists is Certified, Licensed and experienced with an average of 15 years on the job.
YOUR FIRST VISIT – what to do, and what to expect:
Please call us to set up an appointment. Or have your doctor fax us a referral and we will call you to schedule your first visit.
Initial appointment will include an evaluation and will last approximately 60 minutes.
Wear comfortable loose fitting clothes.
Arrive 20 minutes early to complete first visit paperwork.
Your first visit may include 1st treatment.
 A billing professional will visit with you to answer any questions you have.
You will be provided with an outline of your treatment plan and payment options.
Leave with your treatment schedule after the first visit.
When your treatment is done we will send a discharge evaluation to your doctor.
You will get a Complimentary 30 day membership to our Fitness Facility and Pool to continue your strengthening!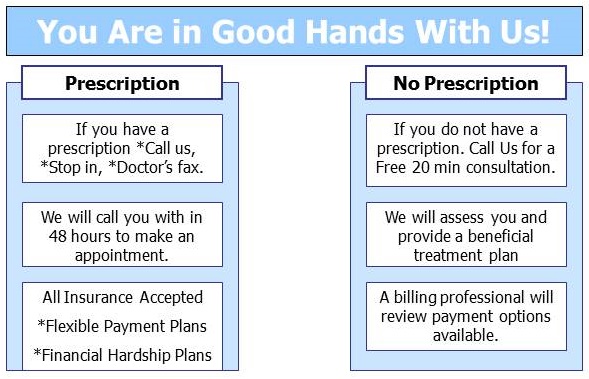 Forms to download and fill out
You are welcome to download the forms below and fill them out ahead of time. Or you can fill them out before your scheduled appointment time – please arrive 20 minutes early.
Financial Assistant Program Form
Your just a few click away from getting answers! Please use this easy form to let us know how we can help.
Conveniently Located at 601 E Main Street in Hart And Looking Forward To Seeing You Soon!