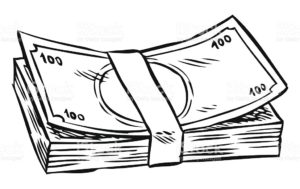 Spring Sale 2019
Take advantage of this offer before deals are gone. Valid until May 4th, 2019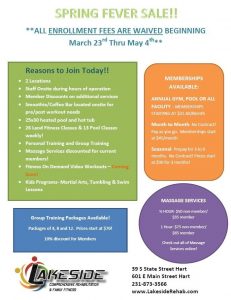 Matter of Balance seminar, open to public free of charge
Every Tuesday and Wednesday, 4pm-6pm at Council on Aging in Hart
Dates: June 18th – July 17th, 2019
Many older adults experience concerns about falling and restrict their activities because of this. A Matter of Balance is an award-winning program that is designed to manage falls and increase activity levels. Anyone who is concerned about falls, had fallen in the past or anyone interested in improving balance, flexibility and strength.This program emphasizes on practical strategies to manage falls. What you will learn:
How to view falls as controllable
Setting goals for increasing activities
Making changes to reduce fall risks at home
Exercises to increase strength and balance
$1 Coffee Days at Lakeside Coffee/Smoothie/Juice Bar
Every Monday and Wednesday get small or large cup of coffee for just $1.00
Valid until March 31st, 2019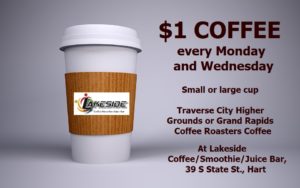 Happy Hour at Lakeside Coffee/Smoothie/Juice Bar
Get 20% OFF any drink purchase between 2pm-5pm Monday through Friday.
Birthday Special
Get 10% OFF any wellness purchase you make at Lakeside Comprehensive Rehab and Family Fitness.  Excludes promotions, medical payments. Cannot be combined with any other discounts. Enjoy your birthday!
Valid the day of your birthday only.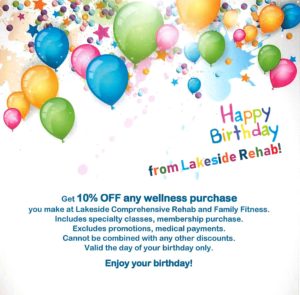 For members only – Punch Card Sale
$5.00 for 6 punch card for Excel members
$10.00 for 6 punch card for regular members
Use this punch card for trying an aquatic class or class that is currently not included in your membership. Or simply come to use the pool during open swim times. You could gift this punch card to your special friend or family member!
Limit: 1 punch card per member. No expiration date.